2010 FIFA WORLD CUP SOUTH AFRICA ™ - ALL WHITES MAKE IT FIVE FROM FIVE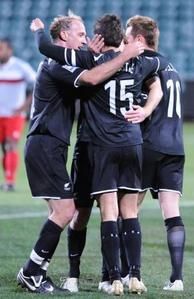 All White Striker Shane Smeltz was again the two goal hero and equalled a 30 year old New Zealand record by matching Keith Nelson's tally of scoring in six consecutive international fixtures.
Smeltz two goals took his personal tally to ten in his past six internationals while substitute Jeremy Christie got the other.
New Zealand controlled the match from the outset and had a number of clear cut scoring chances in the first half that they could not convert.
New Caledonia struggled to maintain possession or penetrate the New Zealand defence, but did go close to snatching the lead through an exceptional 30 yard Pierre Wajoka free kick which rattled the cross bar midway through the first half.
The All Whites asserted their dominance early in the second half when Chris James produced an accurate cross from the edge of the box which Smeltz headed home past goalkeeper Michael Hne.
New Zealand made the result secure in the 69th minute when Christie turned in a cross from Tony Lochhead for his first international goal.
Smeltz added the icing with 13 minutes to go when he got the ball on the edge of the box, had one touch to get past his marker and a second to rifle his shot home.
Both teams wore armbands and stood for a minute's silence before the match in honour of New Zealander Charlie Dempsey, a former Oceania Football Confederation president, who died in June, aged 86.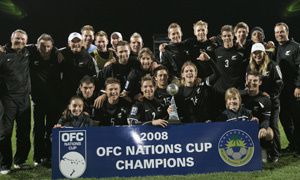 New Zealand Vice Captain Tim Brown was happy with the sides performance in front of their home crowd.
"I thought it was a very professional performance," he said. "We didn't concede, we never looked like conceding and although their structure can be difficult to play against we controlled the game and broke them down."
New Caledonian Coach Didier Chambaron looked back on his sides campaign with pride.
"It was very good for us to finish second behind New Zealand in the group but at this time it is clear we don't have the means to compete at this level against the top side.
"We knew that they were going to be two difficult matches and we tried to hold them out for as long as possible but in the end – we could not dream to hold out these fantastic professional players for too long."
New Zealand's final Oceania fixture is against Fiji in Lautoka on November 19.
Photo: Marc Peretic Wilson
2008 OFC Nations Cup/2010 FIFA World Cup South Africa™
NZL: 1. Mark PASTON (gk); 2. David MULLIGAN, 3. Tony LOCHHEAD, 4. Simon ELLIOTT, 5. Ben SIGMUND, 6. Ryan NELSEN (c) (12. Andrew BOYENS 64'), 8. Duncan OUGHTON (15. Jeremy CHRISTIE 67'), 10. Shane SMELTZ (12. Steven OLD 84'), 11. Jarrod SMITH, 14. Tim BROWN, 16. Chris JAMES.
Coach: Riki HERBERT
SUBSTITUTES: 18. Glen MOSS [rgk], 9. Jeremy BROCKIE, 17. Allan PEARCE.
GOALS: 10. Shane SMELTZ 50', 76'; 15. Jeremy CHRISTIE 69'.

NCL: 3. Jonathan KAKOU, 4. Andre SINEDO, 5. Georges WADENGES, 6. Marius MAPOU, 8. Roy KAYARA (12. Luther WAHNYAMALLA 46'), 9. Allan HNAUTRA (11. Patrick DIAIKE 63'), 10. Pierre WAJOKA (c), 14. Ramon DJAMALI, 15. Jean Patrick WAKANUMUNE (13. Cedric NONMEU 84'), 17. Michel HMAE, 20. Michel HNE (gk)
Coach: Didier Chambaron
SUBSTITUTES: 1. Jean Marc OUNEMOA (rgk), 2. Noel KAUDRE, 7. Bertrand KAI,, 16. Loic HOUALA.

REFEREE: Norbert HAUATA (TAH)
ASSISTANT REFEREE 1: Phillipe REVEL (TAH)
ASSISTANT REFEREE 2: Teariki GOODWIN (COK)
FOURTH OFFICIAL: Andrew MOLI (SOL)