National Selection Under 17 on the road
Ap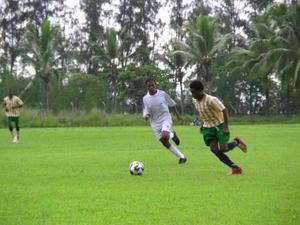 rès une première sélection de joueurs issue des rencontres avec les écoles et du tournoi TVL de l'an dernier, ce sont près de 50 joueurs de Port Vila qui se sont entraînés la dernière semaine du mois d'août, afin d'attirer les regards des entraîneurs de la VFF. Il est en effet nécessaire de restreindre le groupe de joueurs susceptibles d'intégrer la sélection finale des 17 ans, ainsi que d'être retenus pour intégrer le programme d'Elite de l'Académie de Teouma.
Après une journée de tests - techniques, vitesse et détente - trois matinées d'entraînement ont été programmé pour mieux apprécier les qualités de nos jeunes talents. Le dernier jour, le vendredi, était consacré à des matchs afin de voir les joueurs en action et de se conforter dans le choix des joueurs. Sous la houlette de Philemon John et de Moise Poida, la future sélection sponsorisée par la compagnie UNELCO prend forme avec une petite trentaine de joueurs de Port Vila retenus pour le prochain regroupement de décembre, en compagnie des joueurs des îles. Fort des résultats du tournoi TVL l'an dernier, de nombreux talents ont été repérés dans toutes les provinces du pays. Afin de retenir les meilleurs d'entre eux, ainsi que la découverte probable de nouveaux talents, les entraîneurs de la VFF se rendront dans les principales îles du pays courant octobre.
Pour un développement équitable du football dans le pays, il est primordial de donner une chance à tous les enfants, y compris ceux des îles les plus éloignées. La VFF avec le support de ses associations provinciales et des compagnies UNELCO et TVL a bien compris l'intérêt de prospecter et d'apporter son aide sur tout le territoire.


After a first selection of players resulting from the schools tests and 2007 TVL tournament TVL, it is nearly 50 players of Port Vila who trained the last week of August, in order to attract the favors of the VFF coaches. It is indeed necessary to restrict the group of players to integrate the under 17 years old national squad, and also to be integrated in the elite Programme at the Academy of Teouma.

After one day of tests - technique, speed and jump - three mornings of training were programmed to assess the qualities of our young talents. The last day, Friday, was for the matches in order to see the players in action and to confirm the choice of the top players. Under the control of John Philemon John and Moise Poida, the future s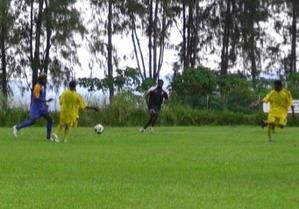 election sponsored by UNELCO company takes form with around thirty players of Port Vila confirmed for the next regrouping of December, with oth
er players coming from the islands. With the results of TVL tournament last year, many talents wer
e detected in all the provinces of the country.

In order to select the best of them, as well as the probable discovery
of new talents, the VFF coaches will go in the principal islands of the country during October.
For an equitable development of football in the country, it is of primary importance to give a chance to all the children, including those of the most d
is
tant islands.

The VFF with the support of its provincial associations and UNELCO and TVL companies understood the interest to prospect and bring its assistance on all the territory.

VFF thanks Amicale Club for the use of their field and UNELCO SUEZ for his support

Les joueurs dont les noms suivent sont convoqués aux entraînements de la sélection tous les mercredi après-midi à 15h au terrain de l'Amicale, à partir du Mercredi 17 septembre :
Goalkeepers / Gardiens de buts
Shem Harrisson, Cheval Eric, Steven Simon, Mac kenzie Jeffry
Defenders / Défenseurs
Kapere Clovis, Malwosi Ramses, Vava Junior, Maleb Etienne, Namuli Fabien, Kaltak Bryan, Roqara Nemani,
Makito Malakai, Massinga Solo, Tom Terry, Tari Gildas
Midfields / Milieux de terrain
Steven Salas, Rory Kito, Meltecoin Octave, Chabod Pascal, Tasso Jackson, Joseph Simo, August Yvon

Forwards / Attaquants
Lolten Steve, Sumaki Bryan, Visi Romarick, Hinge Lucien, Mermer Fernando, Willy Jimmy, James Joseph