FIFA Futsal World Cup: Complete game results Day 1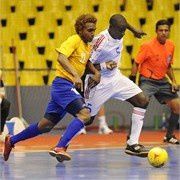 2008 Fifa Futsal World Cup Brazil:
Day 1 games and current standings:
Today's Results: Brazil 12 Japan 1,Italy 1 Thailand 0, Paraguay 5 USA 0,Cuba 10 Solomon Islands 2

DAY 1 FIFA.COM REPORT.
Surprises were conspicuous by their absence on the first day of the FIFA Futsal World Cup Brazil 2008 this Tuesday. The host nation and Italy, two of the pre-tournament favourites, both got off to a winning starts, though in contrasting fashion, as they bid to cement early passage to the knockout stages.
The big game : Brazil 12-1 Japan
Goals: Lenisio 3, 36, Marquinho 4, Falcao 11 pen, 32, Wilde 23, Ari 25, 28, Schumacher 27, 35, Betao 29, Cico 32 (Brazil); Nobuya Osodo 15 (Japan).
Expectation levels were high in Brasilia, where local supporters packed the Gimnasio Nilson Nelson to cheer on their heroes against Japan. Falcao and Co did not disappoint, cutting loose against the Japanese to record their fourth heaviest victory in competition history. Key to the success of coach Paulo de Oliveira's charges was their first-half control of possession and ruthless display of finishing after the break. The Auriverde now sit atop Group A thanks to their 34th win in the tournament. Japan, meanwhile, have yet to taste victory at a FIFA Futsal finals.
The other games
Over in Group B, Italy, runners-up at Chinese Taipei 2004 and last year's UEFA Futsal Championship, were made to work harder than expected to secure a narrow 1-0 over Thailand in Rio de Janeiro. A solitary strike from the penalty spot from Grana was enough to seal the points for coach Alessandro Nuccorini's side, who are currently second in the group behind Paraguay, 5-0 victors over the USA.
The matchday's final game proved to be a historic one for Cuba, who took full advantage of the Solomon Islands lack of experience to record their first ever victory in this competition. The 10-2 success drew a line under a run of nine consecutive defeats as well as setting a new record. Having never previously scored more than three goals at this level, the Cubans struck three times in the 27th minute against the islanders.
The Player : Alexandre Feller (ITA)
The Azzurri custodian prepared for his upcoming birthday in style with an outstanding performance in his side's hard-fought 1-0 win over Thailand. Set to turn 37 in just two days, the Arzignano Grifo player's reflexes, positioning and imposing presence were key to his team's opening Group B success, and all on his first ever appearance at the showpiece event.
The Stat :
21 - Falcao's goal tally in the history of the competition, after his 32nd minute strike against Japan. The fleet-footed Brazilian hit six goals at Guatemala 2000 and 13 at Chinese Taipei 2004, where he finished as top scorer.
What they said
"It was a tough game as we expected it to be, but we're not overly concerned. We played quite well but we've come here to learn. We're not thinking about the present, we're thinking about the future." Jose Pazos, Thailand coach, after his team's narrow defeat against Italy.
________________________________________
Day 1 game Brazil 12 Japan 1
Brazil thrilled their own fans and overwhelmed Japan en route to a 12-1 victory in their FIFA Futsal World Cup curtain-raiser. Lenisio, Falcao, Ari and Schumacher scored twice apiece, and Marquinho, Wilde, Betao and Cico were also on the scoresheet for the tournament hosts.
________________________________________
Day 1 game: Italy 1 Thailand 0
Italy were made to work hard for the three points they gained over a resolute Thailand side in the opening match of Group B at the Maracanazinho in Rio de Janeiro today. Despite taking the initiative by alternating lively strikers Sandro Zanetti and Adriano Foglia up front, the Azzurri found it difficult to turn the possession they had into chances, being frustrated time and time again by a tight Thai defence and some excellent goalkeeping from Surapong Tompa.
________________________________________
Day 1 game: Paraguay 5 USA 0
The USA came out looking to take the game to Paraguay in Rio. But after Matthew Stewart hit the woodwork early on, the rhythm of the game settled squarely with the South Americans.
________________________________________
Day 1 game: CUBA 10 SOLOMON ISLANDS 2
The Solomon Islands - the youngest team at these futsal finals in Brazil - looked to be on their way to a special day when Elliot Ragomo opened the scoring inside the first minute. Unfortunately for the Oceania men, their early joy only acted to aggravate the Cubans.
________________________________________


Tuesday, 30 September 2008 12:00
---
---
Group A

Team

MP

W

D

L

GF

GA

Pts

Brazil

1

1

0

0

12

1

3

Cuba

1

1

0

0

10

2

3

Russia

0

0

0

0

0

0

0

Solomon Islands

1

0

0

1

2

10

0

Japan

1

0

0

1

1

12

0
Group A

Match

Date - Time

Venue

1

30/09 06:30

Brasilia

Brazil

Japan

2

30/09 08:30

Brasilia

Cuba

Solomon Islands

9

02/10 06:30

Brasilia

Solomon Islands

Brazil

10

02/10 08:30

Brasilia

Russia

Cuba

17

04/10 06:30

Brasilia

Brazil

Russia

18

04/10 08:30

Brasilia

Japan

Solomon Islands

25

06/10 06:30

Brasilia

Japan

Cuba

26

06/10 08:30

Brasilia

Russia

Solomon Islands

33

08/10 06:30

Brasilia

Brazil

Cuba

34

08/10 06:30

Rio De Janeiro

Russia

Japan
Group B

Team

MP

W

D

L

GF

GA

Pts

Paraguay

1

1

0

0

5

0

3

Italy

1

1

0

0

1

0

3

Portugal

0

0

0

0

0

0

0

Thailand

1

0

0

1

0

1

0

USA

1

0

0

1

0

5

0
Group B

Match

Date - Time

Venue

3

30/09 06:30

Rio De Janeiro

Italy

Thailand

4

30/09 08:30

Rio De Janeiro

Paraguay

USA

11

02/10 08:30

Rio De Janeiro

USA

Italy

12

02/10 06:30

Rio De Janeiro

Portugal

Paraguay

19

04/10 08:30

Rio De Janeiro

Italy

Portugal

20

04/10 06:30

Rio De Janeiro

Thailand

USA

27

06/10 08:30

Rio De Janeiro

Thailand

Paraguay

28

06/10 06:30

Rio De Janeiro

Portugal

USA

35

08/10 08:30

Rio De Janeiro

Italy

Paraguay

36

08/10 08:30

Brasilia

Portugal

Thailand
2008 Fifa Futsal World Cup Brazil:
Day 1 games and current standings:

Today's Results: Brazil 12 Japan 1,Italy 1 Thailand 0, Paraguay 5 USA 0,Cuba

10 Solomon Islands 2

DAY 1 FIFA.COM REPORT.
Surprises were conspicuous by their absence on the first day of the FIFA Futsal World Cup Brazil 2008 this Tuesday. The host nation and Italy, two of the pre-tournament favourites, both got off to a winning starts, though in contrasting fashion, as they bid to cement early passage to the knockout stages.