Seule Soromon named in Wellington squad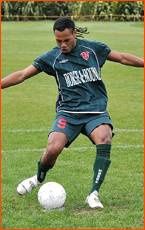 Wairarapa United Top scorer, Vanuatu national Rep. Seule Soromon, has been named in the Team Wellington extended training squad for their 2008 national summer league soccer campaign.
It is the first time since the franchise system was introduced for the national league that any Wairarapa United players have been recognised in such a way, but premier division coach Phil Keinzley is not surprised at the latest turn in events. Keinzley said Soromon who has played internationally for Vanuatu is a gifted attacker whose skills would serve Team Wellington well.
Seule Soromon has been a revelation in the striker's role and Keinzley gives him top rating in the Wairarapa United colours. That really is saying something!
Seule has played an important role in United's historical victory in the central league promotion-relegation game. They have now earned the right to play in the 2009 Central League soccer competition.
Keinzley also reveals he is "working hard" to get the Vanuatu international, Seule Soromon, a trial with the Wellington Phoenix after a season which has seen him score a record 35 goals for the club, and constantly entertains and thrills the veritable army of Wairarapa United supporters with his speed and inventiveness in the process.
"I know some people will say we should worry about ourselves first but my belief always has been that we should give our players every chance to reach the highest possible levels," Keinzley said. "He (Soromon) could be an A-League Player; at least he deserves the opportunity to have a crack at making it."