Fedy Vava and François Sakama in the OFC Squad against LA Galaxy !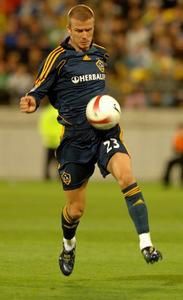 A young, energetic and competitive Oceania All Stars line-up will face the LA Galaxy on Saturday 6 December at the Auckland Regional Council's Mt Smart Stadium.
The core team, announced today at The Westin Hotel in Auckland's Lighter Quay, promises to showcase some of the best footballing talent from New Zealand and the South Pacific.
"Oceania is honoured to bring together an All Star XI to participate in this match," said Oceania Football Confederation General Secretary Tai Nicholas.
"We have chosen the best players from around the region to make up a side that will challenge the opposition and thrill spectators."Matches such as these provide a wonderful spectacle for fans and help to show how football can make a difference to people's lives," he said.
The Oceania All Stars will be coached by former Football Federation Australia National Instructor Coach and OFC Technical Director Jim Selby and former All Whites international and Auckland City FC coach, Colin Tuaa. They will be assisted by former Tahitian international and FIFA Technical Development Officer Patrick Jacquemet.
"This is a great opportunity for players from the Oceania region to test themselves against some of the best players in the world," Selby said.
"There is a lot of football potential in the South Pacific and this match presents an occasion for the players, Confederation and public to benchmark local talents on the international stage."
"One off matches can provide at times surprising and entertaining results - the local players will be there to prove that they can compete at the highest level of the game and against the best," he said.
Selby was assistant coach to former Switzerland coach Roy Hodgson for a World XI match against Australia in 1999.
"It is a real honour for me to be working with this group of Oceanian players," assistant coach Colin Tuaa said.
"I have always supported their progress and development and am excited about the prospect of mixing them with New Zealand's best. It is a really great opportunity for the players to compete against a world-renowned professional club."
Representing Oceania against the LA Galaxy is a fantastic opportunity says Ivan Vicelich.
"I'm very excited, it's great to have a player with Beckham's profile come to New Zealand and create media interest for football in Auckland and around the pacific region," Vicelich said.
"Beckham has done so much for football around the world and this is a great opportunity for me and the rest of the players to run out on the park alongside him and give the Galaxy a run for their money."
This is the second occasion that OFC has helped organise an all-star match in recent times. The Christian Karembeu Jubilee Match between an Oceania XI and the France '98 FIFA World Cup™ winning team in May of this year was extremely successful, as were the Football for Life charity matches between Fiji and a New Zealand XI in August 2007. OFC with the assistance of FIFA, Fiji Football Association (FFA) and New Zealand Football (NZF) helped raise $51,000.00 NZD for tsunami relief projects in the Solomon Islands.
Karembeu attended both "Football for Life" charity matches.
The Oceania All Stars will be captained by FIFA World Cup winner and UEFA Champions League winner Christian Karembeu.
OFC General Secretary Tai Nicholas says that he expects to announce further international signings in the near future.
"We're delighted to have secured former France and Real Madrid star Christian Karembeu and we are working on adding other well-known names to the player list.
"The inclusion of international star players adds to the festival nature of an event like this and demonstrates just how football is truly a game with global appeal," he said.
The Oceania All Stars will be staying at The Quadrant Hotel. The Westin and Quadrant hotels are the official accommodation suppliers of The Beautiful Game.
*Brian Laudrup and Mark Bosnich have been approached and discussions on their involvement are ongoing with a definite confirmation expected to be announced in the near future.
OCEANIA ALL-STARS SQUAD
Jacob SPOONLEY (New Zealand), Benjamin LONGUE (New Caledonia), David MUTA (Papua New Guinea), Fedy VAVA (Vanuatu), Nelson SALE (Solomon Islands), Ivan VICELICH (New Zealand), Pierre WAJOKA (New Caledonia), Raimana LEE FUNG KUEE (Tahiti), Judd MOLEA (Solomon Islands), Jarrod SMITH (New Zealand), Peni FINAU (Fiji), Osea VAKATALESAU (Fiji), Francois SAKAMA (Vanuatu), Malakai TIWA (Fiji), Alick MAEMAE (Solomon Islands), Henry FAARODO (Solomon Islands), Christian KAREMBEU (France/New Caledonia), Steven OLD (New Zealand)
Head Coach: Jim SELBY (Australia)
Assistant: Colin TUAA (New Zealand)
Assistant: Patrick JACQUEMET (Tahiti)
Manager: Seamus MARTEN (New Zealand)
Une jeune, énergique et compétitive lignée de stars Océanienne fera face à la LA galaxy le samedi 6 décembre au Mt Smart Stadium.

Le noyau de l'équipe, présenté aujourd'hui à l'hôtel Westin situé près du Lighter Quay d'Auckland, promet de mettre en avant quelques uns des meilleurs talents du football de Nouvelle Zélande et du Pacifique Sud.
L'Océanie est honorée de rassembler une équipe de 11 stars pour participer à ce match, » affirme le Secrétaire General de la Confédération Océanienne de Football, Tai Nicholas.
Nous avons choisi les meilleurs joueurs de toute la région pour composer une équipe qui défiera l'opposition et fera frémir le public.
Les matchs de ce type fournissent un spectacle merveilleux pour les fans et aident à montrer combien le football peut faire une différence dans la vie des gens, » dit-il.
L'équipe de la 'Oceania All Stars' aura pour entraineur l'ancien Instructeur National des Entraineurs de la Fédération Australienne de Football Jim Selby accompagné de l'ancien entraineur des All Whites International et du FC Auckland City, Colin Tuaa. Ils seront assistés de l'ancien conseiller technique international tahitien et actuel Officier de Développement Technique de la FIFA, Patrick Jacquemet.
C'est une grande occasion pour des joueurs de la région d'Océanie de se mesurer à certains des meilleurs joueurs au monde, » ajoute Selby.
Il y a beaucoup de potentiel pour le football dans le Pacifique Sud et ce match représente une occasion pour les joueurs, la confédération et le public de permettre aux talents locaux de se faire repérer sur le plan international. »
Parfois un seul match peut apporter son lot des surprises et fournir des résultats divertissants - les joueurs locaux seront là pour montrer qu'ils peuvent se mesurer au plus haut niveau de jeu et contre les meilleurs » affirme Selby.
Selby était l'entraineur assistant de l'ancien coach suisse Roy Hodgson durant le match qui a opposé la World XI à l'Australie en 1999.
C'est un réel honneur pour moi de travailler avec ce groupe de joueurs océaniens, » complète Tuaa.
J'ai toujours soutenu leur progrès et développement et je suis enthousiaste face à la perspective de les mélanger aux meilleurs de la Nouvelle Zélande. C'est une occasion vraiment formidable pour les joueurs que d'affronter un club professionnel de renommée mondiale. »
Représenter l'Océanie contre la LA Galaxy est une fantastique opportunité dit Ivan Vicelich.
Je suis très excité, c'est formidable d'avoir un joueur ayant le profil de Beckham qui vient en Nouvelle Zélande et suscite l'intérêt des médias pour le football à Auckland et dans la région Pacifique, » signale Vicelich.
Beckham a tellement fait pour le football dans le monde et c'est une grande occasion pour moi et le reste des joueurs de courir à ses côtés et de rendre LA Galaxy la monnaie de leur pièce. »
Le capitaine de La 'Oceania All Stars' sera un vainqueur de la Coupe et vainqueur de la ligue des champions de l'UEFA,
Ô
du Monde FIFA Christian Karembeu.
Le Secrétaire Général de l'OFC Tai Nicholas soutient qu'il s'attend à annoncer d'autres engagements dans un avenir proche.
Nous sommes enchantés d'avoir l'engagement de l'ancienne star de l'équipe de France ou du Real Madrid Christian Karembeu et nous travaillons à ajouter d'autres noms bien connus à la liste des joueurs.
L'implication de stars internationales ajoute à la nature festive d'un événement comme celui-ci et démontre tout simplement combien le football est vraiment un jeu à vocation mondiale, » dit-il.
C'est la deuxième fois maintenant que l'OFC aide à organiser un match d'un tel calibre. Le match du Jubile de Christian Karembeu qui a vu une équipe de stars océanienne affronter l'équipe vainqueur de la Coupe du Monde FIFA 1998™ au mois de mai de cette année fut particulièrement réussi de même que les matchs de charité « Le Football pour la Vie » opposant Fiji à la Nouvelle Zélande en août 2007. L'OFC avec l'aide de la FIFA, l'Association Fidjienne de Football (FFA) et le Football de la Nouvelle Zélande (NZF) ont aidé à soulever $51.000.00 NZD pour des projets visant à soulager les victimes du tsunami dans les îles Salomon.
L'Ambassadeur FIFA Christian Karembeu a rejoint des stars telles que Zinedine Zidane, Youri Djorkaeff et Laurent Blanc en célébrant un spectacle culturel haut en couleur devant 20.000 fans. Karembeu a pris part aux deux matchs de charité « Le football pour la Vie ».
OFC ont approche Brian Laudrup et Mark Bosnich et des discussions sont en cours et permettront une confirmation definitive qui sera annonce dans un avenir proche