Tafea FC Champions for the fourteenth consecutive !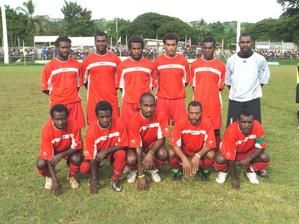 Tafea FC were crowned champions of Vanuatu for the fourteenth consecutive season last week after edging out closest rivals Tupuji on goal difference. Tafea FC and Vanuatu coach Robert Calvo was delighted with the club's retention of the Port Vila Football Association (PVFA) VB Championship and views the victory as the perfect tonic for his club with two OFC O-League fixtures against KOSSA FC and Ba scheduled for Port Vila Municipal Stadium in February next year.
The title success was also enjoyed by former Vanuatu number one goalkeeper David Chilia who has been part of the Tafea FC club since its first title success in 1993. Chilia has lost out for national team selection to nephew Chikau Mansale - ironically now Tupuji's first choice keeper - with the two Mele kinsmen enjoying a healthy rivalry at domestic and international level.
Tupuji will look back at this campaign with some sense of what might have been after they handed Tafea FC a 4-1 thrashing in the first round of the competition. Tafea FC gained some revenge defeating Tupuji 2-0 in the penultimate round of the fixture list. Third place-getters Yatel FC will have regrets of their own after recording wins over both Tupuji (0-2) and Tafea FC (0-1) but dropping points to the likes of struggling Erakor.
Yatel FC's propensity to disappoint when faced with opposition considered as peers was frustratingly offset by the ability to drop points to teams in the lower-half of the league with harmful regularity. Yatel FC's title challenge evaporated after Tafea FC beat them 7-2.
Erakor and Westtan proved inconsistent throughout a roller-coaster season with Ifira BB FC able to inflict a 3-2 defeat upon Westtan one week then lose 13-2 to Tupuji just a fortnight later. Westtan enjoyed a good 3-2 win over Yatel FC that helped railroad the third place getters PVFA VB Premier Division and OFC O-League qualification hopes.
At the bottom of the PVFA VB Championship Premier Division Pango GB FC were relegated to Division 1 with Ifira BB FC thrown the life-line of a relegation/promotion playoff against Division 1 runners up Narak Tegapu. Ifira BB FC will need something of a miracle to halt Narak Tegapu after an impressive season for the Division 1 side saw lose only three matches all season.