2010 FIFA WORLD CUP SOUTH AFRICA ™ - CHILLIA RETURNS TO VANUATU NATIONAL TEAM
Ac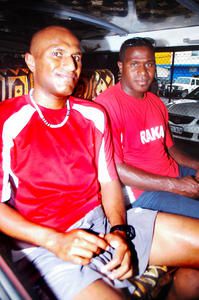 e playmaker Seimata Chillia returns to the Vanuatu national team for tommorrows 2010 FIFA World Cup South Africa Qualifier against Fiji after an absense of over three years.
The 30-year-old last played for his country in 2004 during the World Cup qualifiers in Adelaide where Vanuatu was beaten 0-1 by Fiji.
"I'm pleased to have been recalled and it'll be a good game for my side tomorrow (today). I'll just try and stay focused.''
"I was looking forward to playing in the South Pacific Games last year but didn't make it because of work commitments,'' he said.
Chillia is an assist in the finance department of the United Nations Development Programme office in Suva and has also been a regular in the capital's football team since 2006.
He is also well versed about the Fijian opponents that he will be facing today.
"I played IDC for Suva in 2003, 04 and 05. I've been playing full seasons since 2006 when I joined USP.''
"I know all the boys in the Fiji team and hope to have a good game against them,'' he said.
Chillia is looking forward to playing alongside fellow Fiji-based countryman Joseph Nimariau, who used to play for Suva before joining Labasa in June.
"I enjoy playing with Joseph and he's a great finisher.''
He was in the Suva team that lost 0-4 at Govind Park last week and believes the heat factor in Ba may trouble Vanuatu.
"It was very hot there last week and Fiji team has been training in Ba since last week.''
Chillia said he had a lot of respect for Fiji team and its coach Juan Carlos Buzzetti, who coached Vanuatu for a number of years before moving to Fiji in 2006.
"I appreciate the work he did in Vanuatu. I've played under him and he knows my game so I think I'll need to change my technique and style,'' he said.