Vanuatu lost against New Zealand 1 - 2 !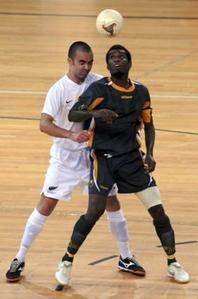 Gregory O'Connor kept New Zealands OFC Futsal Championship dreams alive with the winning goal in their last minute 2-1 win over Vanuatu in the first game of match day two.
O'Connor was thrown on as a late sub by New Zealand coach Erkin Osman and he repaid his coach's faith with a right footed drive into the Vanuatu net to seal the valuable three points and throw his side a lifeline in the tournament.
New Zealand had gone ahead halfway through the second half when Andrew Gwilliam's long range shot squeezed between the legs of Vanuatu goalkeeper Chikau Mansale.
Vanuatu replied with a well earned equaliser five minutes from the end and it looked like the spoils were going to be shared after a rough physical match between two very even sides.

But O'Connor had a different idea and his quick turn and shot from inside the box was just what osman ordered and sparked jubilant celebrations from the NZ bench.
It was a tough pill to swallow for Vanuatu who had dominated large periods of the match but were let down again by some poor finishing.
Both sides now have one win and one loss and will be relying on the Solomon Islands to drop points if they stand any chance of winning the tournament.
Osman was delighted with the win and said that his side can't afford to drop any more points.
"We need to hope that someone can knock Solomon Islands over now and make sure we keep winning at al
l costs."
"I sent Greg (O'Connor) on shortly after they equalised in search of a goal. He's a very good player but a little in-experienced at this level and he had begun to run out of puff.
"He did the job and I'm proud of him and the boys of todays performance."
Vanuatu
coach Marcellino Barthelemy was proud of his sides effort and said 'dissapointed' was not the right word to some up his feelings.
"The boys did their best and our tournament is not finished yet. Our tournament will be over on Saturday. This is a game we expected to be difficult and it was, but I am proud of my team."
NZL: 1. Elias BILLEH (GK); 4. Marvin EAKINS; 8. Joshua MARTIN; 10. Ouadhah RAGUED; 12. Luke FIELD;
SUBS: 20. Clayton CHAPPELL (RGK), 5. Yukin NAIDOO; 14. Bakr Al SAUDI; 3. Andrew GWILLIA
M; 19. Michael CORRINGHAM; 17. Victor ZAIA; 23. Gregory O'CONNOR;
Coach: Erkin Osman (AUS)

VAN: 1. Chikau MANSALE; 3. Ben EDWARD; 5. Fedy VAVA; 6. Derek MALAS; 10. Jack Vira ALA;
SUBS: 2.
Terry QUARE; 4. Lui SIFAS; 7. Ben HUNGAI; 8. Louis DOMINIQUE; 9. Siardon Mera TALKANAMAL; 11.
Saen Wowut FANAI; 22. Daniel MANSALE;
Coach: Marcellino BARTHELEMY (VAN)
Referee: Scott KIDSON (AUS)
2nd Referee: Francois TROLLIARD (NCL)
3rd Referee: Amitesh BEHARI (FIJ)
Timekeeper: Rajnish DAVE (FIJ)
Referee's Assessor: Massimo Raveino