PVFA 2008-09 TVL PREMIER LEAGUE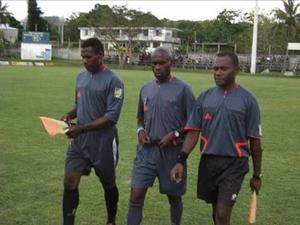 Port-Vila Football Association Day 6 resumes today after all matches were suspended last weekend due to poor attendance by Club representatives at the PVFA weekly general meeting.
Tupuji Imere FC and Seveners will open this Round 6 of PVFA 2008-09 TVL Premier League this afternoon 5.30 pm at the Port-Vila Stadium in what promises to be an enthralling contest.
Next to last in the TVL Premier League, PVFA Giant Tupuji Imere FC

desperately needs to beat Seveners United,

to end a losing streak and move away from relegation trouble.

TUPUJI IMERE Football Club started the season full of hope after finishing runners-up last season and challenging champions TAFEA FC until the final weekend. It has failed to live up to expectations so far and have lost two league matches out of five.

The Club now sits next to last in the TVL Premier League standings. Although the season is only five weeks old, there is a danger that a leaderless Tupuji Imere will fall further behind the major contenders in the title race.
Seveners United, on the other hand, will certainly aim to bounce back after their lost to Yatel FC.

The hard-working team still possesses enough quality to surprise with their sheer obstinacy and mental strength, battling on to the final minute of every fixture. John Laan remains their focus in attack although key midfielder John Johnson will be missing following a second yellow card.

Seveners Utd will go into this encounter with some degree of confidence.