VFF referees awarded with FIFA badges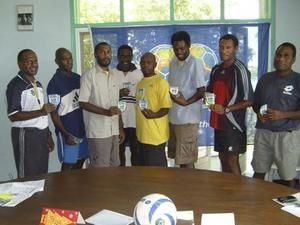 Vanuatu Football Federation increased this year the number of his referees who received FIFA badges.

This year the number increased from 6 to 9 referees. Among them three are three new comers Tony Meltetamath (Assistant referee), Alick Lukai (assistant referee) and Allan Daniel (futsal referee) who joined the existing list of Lency Fred (Referee), Mahit Chilia (Assistant Referee), Nawen Hopkins (assistant Referee), Michael Joseph (assistant Referee), Harry Atisson (futsal referee) and Pita Pakoatong (futsal referee).
A brief ceremony has been held on Thursday morning at the VFF office to witness the handing over of these FIFA badges. When presenting the FIFA badges, Mr. Maltock said Vanuatu referees are progressing well and it is an honor for VFF to note this progress. "You deserve these awards for what you are doing for Vanuatu football. Now you have an obligation to serve VFF and FIFA in all competitions. VFF has to make use of this opportunity to develop football", VFF President told his FIFA referees.
He explains that referee duties are very important in matches because they learns players to respect Fair Play and the rules of the game. He asks them to help VFF to transfer their skill and experiences to their colleagues in all Provinces in Vanuatu. The President of VFF urged those FIFA referees to be ready to carry out their duties not only in Port Vila but also in all Provinces.
VFF has allocated a budget for this for the Referee Development Officer Harry Atisson to visit all Provinces to explain the rules.