OFC YOUTH INSTORE FOR CULTURAL LESSON WITH THE STARS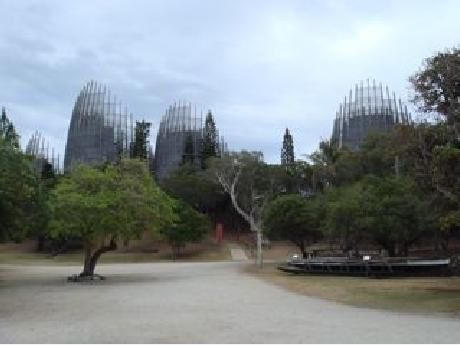 Players from the nine different countries involved with the OFC Youth Festival will share a day to remember forever tomorrow when they will have the opportunity to mix and mingle with some of the best players in the world at the Jean-Marie Tjibaou Cultural Center.
A day of cultural activities is planned for the 20 different teams involved in the tournament and the climax will be a closed-doors tour of the Tjibaou Cultural Centre with their heroes including Christian Karembeu and Zinedine Zidane.
If the excitement of mixing with their idols isn't enough for the young aspiring footballers, they have the OFC Youth Festival to look forward to with the first matches kicking off at 10.00am on Thursday.
Four pools of five teams will eventually get whittled down to one winner who will represent OFC at the Danon Nations Cup in France later this year.
But it is the experience of playing and mixing with kids from different cultures and backgrounds which has made the OFC Youth Festival and a visit to the Tjibaou Centre is the perfect precursor to the main event.
Here the kids will learn about the history behind the centre and New Caledonia.
The Jean-Marie Tjibaou Cultural Center was designed by Italian architect Renzo Piano with the concept of celebrating the vernacular Kanak (also, Canaque) culture of New Caledonia.
The centre is composed of 10 units called "cases," all of different sizes and different functions, but with the consistent form of vertically positioned shell-like structures which resemble the traditional huts of a Caledonian Village.
They were given a deliberate "unfinished" appearance as a reminder that Kanak culture is still in the process of becoming - a belief held by the deceased Canaque leader, and inspiration for the site, Jean-Marie Tjibaou.
This particular site lies amongst much political controversy. The island of New Caledonia was subject to French occupation and authority for over 100 years. Cultural leader, Jean-Marie Tjibaou was promoting Canaque independence at the time of his assassination by a Canaque extremist.
After the assassination of Tjibaou, François Mitterrand, then French Prime Minister, agreed to construct the Cultural Centre as the only Grand Project to be built outside of France. This was considered to be a "band-aid" by some, and an honest gesture by others in an attempt to quell local outcry and response.