Second Day - Only Imaki in Semi-final.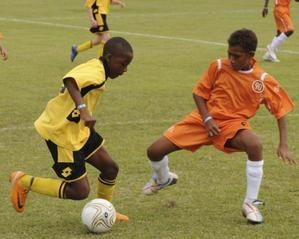 (photo : Marc Peretic - Wilson)
vERY GOOD BEGIN FOR THE FIRST ROUND, with the victory of Imaki against the team of Auckland, and two draws for the teams of Erakor and Abuanga. For these two teams, they have also the advantage in case of equality at the end of matches' group, winning the penalties series.
After the second match, and his victory 3-0 against Waikato, Imaki is already qualified for the semi-finals. It will be more difficult for Erakor, who lost 1-0 against Capital Wellington, and Abuanga, who lost also on the same score agains . To continue, they need to win against Wabag for Erakor, and Imaki for Abuanga. Third round this afternoon at 14h10.
With its draw 1-1 against Wabag from PNG, Erakor school has failed to go in semi-final, like Abuanga, who did 0-0 with Imaki. With this draw, Imaki has confirmed its first place, and Auckland finish second,n Abuanga third and Waikato Fourth. In the other group, Capital finish first, Flying Arrows Ba second, Erakor third and Wabag from PNG fourth.
for the semi-finals, at 16h00, Imaki will play against flying arrows Ba from Fidji, and Auckland will play against Capital Wellington.
Already a first victory for these four teams, they will play tomorrow at Numa Daly, just before the match of France 98 against Christian Karembeu team, with Moïse Poida from Vanuatu.
| | | | | | |
| --- | --- | --- | --- | --- | --- |
| Teams Pool W1 | Pts | P | W | D | L |
| Imaki (Vanuatu) | 7 | 3 | 2 | 1 | |
| Abuanga (Vanuatu) | 2 | 3 | | 2 | 1 |
| Waikato Bay of Plenty (NZ) | 1 | 3 | | 1 | 2 |
| Auckland (NZ) | 6 | 3 | 2 | | 1 |
Hour

Team 1

Team 2

Result

10h20

IMAKI (Vanuatu)

AUCKLAND (NZ)

1

0

10h20

Waikato Bay of Plenty (NZ)

ABUANGA (Vanuatu)

0

0

11h20

IMAKI (Vanuatu)

Waikato Bay of Plenty (NZ)

3

0

11h20

AUCKLAND (NZ)

ABUANGA (Vanuatu)

1

0

14h10

IMAKI (Vanuatu)

ABUANGA (Vanuatu)

0

0

14h10

AUCKLAND (NZ)

Waikato Bay of Plenty (NZ)

1

0
| | | | | | |
| --- | --- | --- | --- | --- | --- |
| Teams Pool W2 | Pts | P | W | D | L |
| ERAKOR (Vanuatu) | 2 | 3 | | 2 | 1 |
| WABAG (PNG) | 2 | 3 | | 2 | 1 |
| CAPITAL Wellington | 5 | 3 | 1 | 2 | |
| Flying Arrows BA (Fiji) | 5 | 3 | 1 | 2 | |
Hour

Team 1

Team 2

Result

10h20

ERAKOR (Vanuatu)

Flying Arrows BA (Fiji)

0

0

10h20

CAPITAL Wellington

WABAG (PNG)

0

0

11h20

ERAKOR (Vanuatu)

CAPITAL Wellington

0

1

11h20

Flying Arrows BA (Fiji)

WABAG (PNG)

1

0

14h10

ERAKOR (Vanuatu)

WABAG (PNG)

1

1

14h10

Flying Arrows BA (Fiji)

CAPITAL Wellington

0

0