New partnership for VFF with Unelco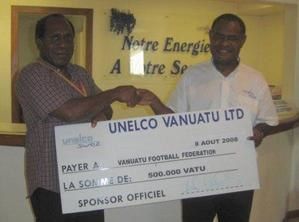 La VFF est heureuse d'accueillir un nouveau partenaire pour developper le programme des jeunes. Il s'agit d'une des plus grandes societe du pays « Unelco Vanuatu Ltd ». La cérémonie de signature a eu lieu vendredi 8 aout entre le president de la VFF, Lambert Maltock et le chef du personnel d'Unelco, Anatole Ymack.
Sous cet accord, la société Unelco est désormais le sponsor officiel de la sélection nationale des moins de 17 ans. Elle s'engage à verser une somme de 500 000 Vt consacrée à la préparation de cette selection qui disputera les éliminatoires de la Coupe du Monde pour la zone Oceanie en mars 2009 à Fiji. La société Unelco se joint ainsi à la liste actuelle des partenaires officiels de la VFF, notamment Telecom Vanuatu Ltd, Air Vanuatu, Asco Motors, la Banque Bred, l'Union Europeenne et le Ministère de l'Education. Durant les dernieres années, Asco Motors a été l'unique partenaire officiel de la VFF et a beaucoup contribué au développement du football.
Avec les nouveaux sponsors officiels, la VFF est optimiste quant à l'avenir du football du Vanuatu. Pour la préparation de la sélection de moins de 17 ans, la VFF met en place un programme de détection qui touche toutes les provinces et concerne tous les jeunes qui sont nés en 92 et 93. Les entraineurs de la VFF vont être amenés à se déplacer dans les provinces pour détecter les meilleurs joueurs qui feront partie de cette sélection.

The VFF is happy with a new partner for the Youth Development. It is one of the largest company of the country "Unelco Vanuatu Ltd ". The ceremony of signature took place Friday 8 August between the VFF president, Lambert Maltock and the head of the personnel of Unelco, Anatole Ymack.
Under this agreement, the Unelco company is the official sponsor of the under 17 years old national selection. It is committed paying a sum of 500 000 Vt devoted to the preparation of this selection which will dispute the qualification of the World cup for Oceania in March 2009 in Fiji. The Unelco Company is now one of the official partners of VFF, with Telecom Vanuatu Ltd, Air Vanuatu, Asco Motors, the Bred Bank, the European Union and the Ministry for Education. During the last years, Asco Motors was the single official partner of the VFF and contributed much to the development of football.
With the new official sponsors, the VFF is optimistic for the future of the football in Vanuatu. For the preparation of the Under 17 selection, VFF sets up a program of detection which touches all the provinces and concerns all the young players born in 92 and 93. The coaches of the VFF will go in the provinces to detect the best players who will belong to this selection.